Wed, Jan 21, 2015 at 12:30PM
---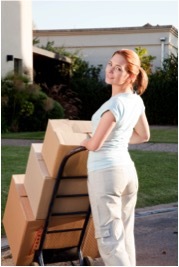 Are you moving during the upcoming months? Get excited! The moving process can be tiresome, but it's also one of the
most rewarding and fulfilling tasks you can take on. While we really do love the thrill of a change of scenery, it is also important to remember to stay safe during the process. We'll go over how to do just that: both when it comes to personal, physical safety and the security of your home during the move.
When it comes to moving, the first step is to choose a mover. At Volusia Van, not only do we make the job easier—we're also trained and experienced in moving safely and effectively. Never try to bite off more than you can chew; for big pieces of furniture and awkward locations, your best bet is to get some help from a professional. That's what we're here for!
Of course, over the course of your move there is bound to be some heavy lifting and strenuous activity on your own part. Make sure you're equipped with the right tools for the job—dollies, for example, are very helpful when it comes to moving heavy objects across any distance. On moving day, you'll also want to make sure both locations (the former home and the new one) are stocked with healthy snacks, ice and plenty of water to keep your extra hands-on-deck happy and hydrated.
Are you concerned about protecting your home and valuables during the move? Potential theft can occur when your house is visibly open on moving day. To combat this, you can pack extra securely—for example, place your important documents in a secure box and stow away valuable items in a room in your home; if it can be locked, or has no windows, that's a plus!
By following these simple tips, you and your new home will be safe and secure during the moving process.