ARE YOU MOVING OUT OF THE STATE?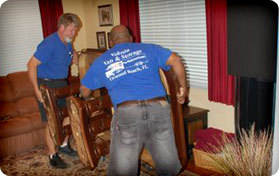 Let us provide you with a free in-home estimate for your long distance move. Our extensive agency network, computer dispatch center and satellite communications systems will provide you with a professional and seamless move from start to finish. Each of your household items will be inventoried and each piece of furniture will be blanket-wrapped. When we arrive at your new residence we will place each item exactly where you wish.
SUMMARY OF LONG DISTANCE SERVICES:
One item or an entire household shipment.
Detailed inventories provided for each move.
Guaranteed on time pick-up and delivery dates.
Unique numbered tagging system for all items shipped.
Customized crating of pictures, glass and marble.
Blanket and plastic stretch wrapping of all furniture.
Semi-Trailers equipped with air ride suspension systems.
All materials for wrapping sofas and hardwood furniture.
Guaranteed pack, load and delivery rates.
Certified Move Consultants for in-home estimates and service recommendations.