ARE YOU MOVING OUT OF THE STATE?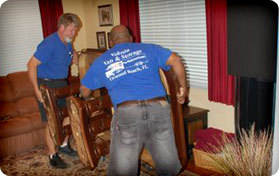 Let us provide you with a free in-home estimate for your long distance move. Volusia Van and Storage is a Certified North American Van Line Agency. Our extensive agency network, computer dispatch center and satellite communications systems will provide you with a professional and seamless move from start to finish. Each of your household items will be inventoried and each piece of furniture will be blanket-wrapped. When we arrive at your new residence we will place each item exactly where you wish.
SUMMARY OF LONG DISTANCE SERVICES:
One item or an entire household shipment.
Detailed inventories provided for each move.
Guaranteed on time pick-up and delivery dates.
Pick-ups and deliveries performed by North American Van Lines.
Unique numbered tagging system for all items shipped.
Customized crating of pictures, glass and marble.
Blanket and plastic stretch wrapping of all furniture.
Semi-Trailers equipped with air ride suspension systems.
All materials for wrapping sofas and hardwood furniture.
Guaranteed pack, load and delivery rates.
Certified Move Consultants for in-home estimates and service recommendations.